ART GALLERY GARDENS 1995 - 2006 INTRODUCTIONS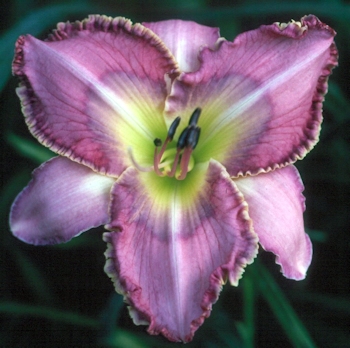 ADA MAY MUSICK
(Lambertson 2003) TET 6.75" Sev EM Re 34"
(Mildred Mitchell x Mal)
This huge bloom honors a grandmother of 93 years who has always loved flowers. Extra large petals of light pink lavender and lighter sepals are set off by a cream outer edge and a gorgeous pale blue inner edge & eye against a very green throat. ADA MAY MUSICK sings with great plant habits, 5-way branching, 30 buds, fertile.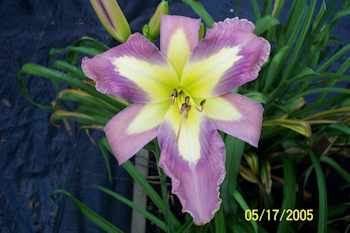 AERIAL APPLIQUE
(Lambertson 2007 Intro) TET 6.5" Sev E Re 32"
(Stellar Star Seedling X Seedling)
AERIAL APPLIQUE is a large bloom that sits on tall scapes and sings in the wind. The beautiful muted lavender petals and lighter muted lavender sepals are garnished with a lavish medium violet-lavender halo and a spectacular yellow appliqué which leads down into the green throat. This early bloom sets pods easily and is being used in appliquéd regular and UF crosses. 3-way branching, 20 buds. Fertile both ways.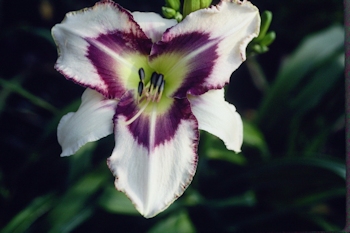 ALICE LAMBERTSON
(Lambertson 1995) 6" TET Semi-Ev Em 26"
[(Sdlg. x Isle of Dreams) X Admiral's Braid]
An angelic white flower with a striking navy blue eye & picotee edging. Three way branching & 20-25 buds. Reblooms three times. Fertile.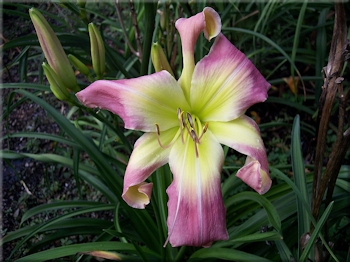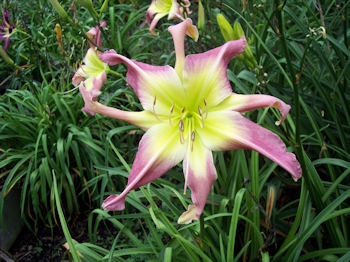 AMONG US
(Lambertson 2005) TET 9.5" Sev EM Re 32"
([Christmas Ribbon Sdlg x Samar Starfire Sdlg] x Seedling)
AMONG US is a massive UF with gorgeous coloration of pink lavender petals and lighter pink lavender sepals. A huge, distinct cream white halo extends well out onto the petals and sepals. The beautiful green throat also extends out into the halo. AMONG US has many looks. On the last rebloom scapes AMONG US does a lot of polytepaling. With 5-way branching and 25 plus buds this is a really different looking UF. Fertile.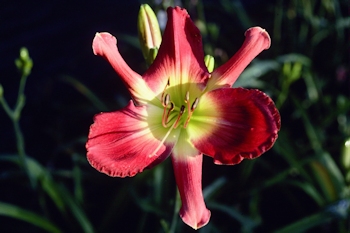 ART GALLERY QUILLING
(Lambertson 1999) TET 7 1/2" SevMRe30"
[Seedling X Alias Peter Parker]
This very distinctly shaped flower of satin red and light red watermark is a treasure for the new Tet UFO catagory! ART GALLERY QUILLING is very pod & pollen fertile. 3-4 way branching, 25 buds. Really cool kids! QUILLED !!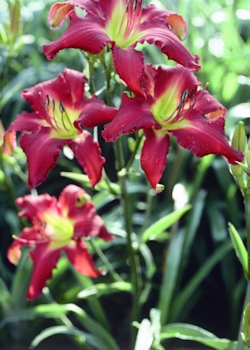 ARTISTIC WEB
(Lambertson 2000) TET 7" Sev E-EM Re 32"
[(Morticia x Anastasia Seedling) X Isle Of Dreams]
This UFO was praised by many top hybridizers and garden visitors. The extraordinary color and plant habits of ARTISTIC WEB are a wonder. One of the most beautiful colors I've ever seen in daylilies - a pure mixture of alizarin crimson & rose-raspberry with lighter watermark, coming up from a beautiful green throat. Fertile both ways, 3-way branching & 35 buds complete this great plant! COLOR !!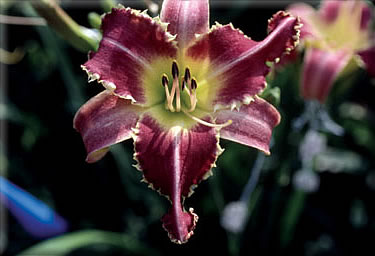 BI-COLORED BITE
(Lambertson 2002) TET 5" Sev EM Re 32"
(Crocodile Smile X Stippled Stars)
BI-COLORED BITE is a dazzling flower, continuing the tradition of sharksteeth with both white and yellow teeth. The petals are a rich, stippled, diamond-dusted deep rose with much deeper rose eye. The lighter rose sepals make this a bi-tone. Nice tall 32" scapes carry multiple blooms. Was used for teeth in my UF and regular form series. 3-4 way branching. 25+ buds. Bite!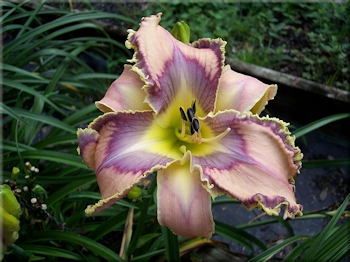 BIRD TALK
(Lambertson 2005) TET 6.5" Sev EM Re 24"
([Blue Eyes Glance Sdlg x Cretaceous Crunch X Mildred Mitchell)
BIRD TALK is a really spectacular patterned daylily! This very large flower of cream pastel with its' stunning eye of smoky slate blue has points bursting out onto the petals. Red purple is etched around the outer eye. The petal edges have all the colors of the eye and are very sculptural, rising up and down with the outer edge having small gold teeth and serrations. BIRD TALK has 4-way branching, 25 buds. Fertile both ways. Fantastic complex eyed and edged kids! Wow!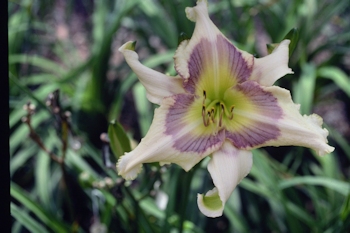 BLUEBERRY CREAM SWIRLS
(Lambertson 2001) TET 7'' Sev EM Re 26''
(Nebulous Nearness X Seedling)
A beautiful light cream UF with a very large blue-violet eye & partial picotee edge, puntuated with dark violet veins. The color holds all day in the hot sun. The sepals have a radical twisting movement. Fertile both ways. 3-4 way branching, 20 plus buds.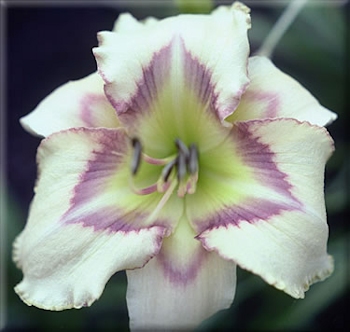 BLUE-EYED BUTTERFLY
(Lambertson 1996) 5.5" TET Semi Ev EM Re 24"
(Lonesome Dove x Intricate Eyes)
This is a lovely white flower with an exquisite patterned medium-blue eyezone on petals & sepals. Unique & beautiful. Pollen fertile. Strong grower. Recurrent, well branched.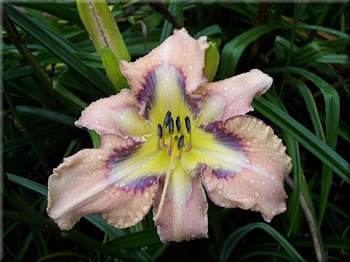 BLUE-WINGED WARBLER
(Lambertson 2005) TET 5.5" Sev M Re 26"
(Metallic Blue Eyes Sdlg x Sdlg)
Watching birds is a passion of mine and watching warblers is one of my favorite activities. BLUE-WINGED WARBLER is a patterned masterpiece with very distinct shaped petals of creamy pastel. An alluring eyezone of medium to dark blue with red-purple fingered protrusions extends out onto the petals. Sometimes the eye has metallic silver in it. BLUE-WINGED WARBLER has 3-way branching and 15 to 18 buds. Fertile both ways. Wild kids!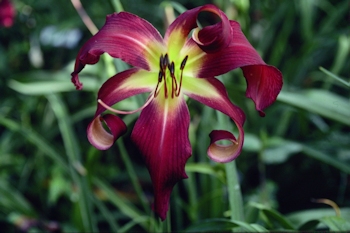 BROOKLYN TWIST
(Lambertson 1998) TET10"-12" Sev Mid Re 28"
[(Sdlg X Alias Peter Parker) X (Christmas Ribbon X Samar Starfire)]
A very large, dynamic unusual form - a combination of a twisting crispate and cascade. BROOKLYN TWIST is a beautiful clear violet red with darker eye and large yellow green throat. Exciting kids! 3-way branching, 25 buds. Pollen fertile and vigorous.




CELTIC VEINS
(Lambertson 2000) TET 6" Ev EM Re 30"
[Seedling X Star of India]
There are so many interesting characteristics which make CELTIC VEINS a fascinating flower. A medium purple petal with light purple sepals make it a bitone. The sepals also sometimes twist. A very large purple eyezone is set off by the very green throat that radiates up into yellow-orange with very strong purple veins running through it! CELTIC VEINS has strong pollen,sets some pods. 4-way branching, 25 buds. Absolutely awesome! VEINS !!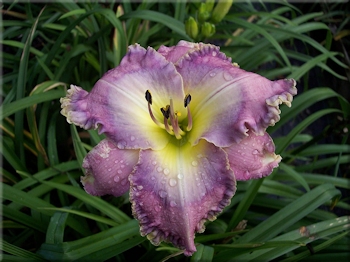 CERULEAN WARBLER
(Lambertson 2005) TET 5" Sev EM Re 28"
(Awesome Artist Sdlg x Future Blue Eyed Sdlg)
The CERULEAN WARBLER is one of our most endangered warblers. Concerned birders have made large contributions to save the habitat of this little blue jewel. CERULEAN WARBLER is a stunning classic bloom of blue lavender on both petals and sepals. CERULEAN WARBLER has a very round subtle eye of grays and blue, which is carried around the very crinkled and bubbly edge. The outer edge is a combination of diamond dusted silver, white and gold. This super flower has produced very blue seedlings. 3-way branching, 15 to 20 buds. Fertile both ways.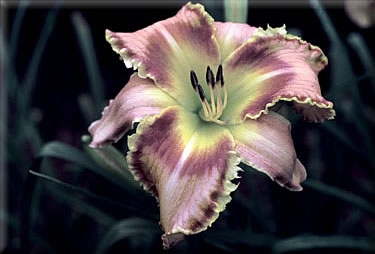 CRETACEOUS CRUNCH
(Lambertson 2002) TET 7" Sev EM Re 28"
(Crocodile Smile X Way Cool Sister Sdlg)
This monster bloom was a key parent in my large and UF teeth program. A fawn pastel petal with lighter sepals is accented by a large muted purple eye and inside edge. The huge yellow and white sharksteeth are a voice from the past. CRETACEOUS CRUNCH has many different looks, sometimes folded back and other times with wild twisted sepals. CRETACEOUS CRUNCH blooms early and has a long bloom season. Fertile both ways. 3-way branching, 20 buds. Crunch!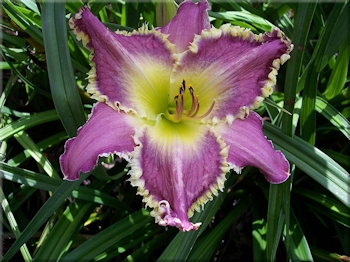 DRINK THE LIGHT
(Lambertson 2005) TET 5.5" Sev EM Re 24"
(Face Of The Stars x Darla Anita)
DRINK THE LIGHT is a startling bloom with gorgeous dark lavender violet petals and sepals. The eye is cream to blue violet receding into a rich green throat. DRINK THE LIGHT has a fantastic yellow and white sharkstooth edge with horns, serrations and teeth. 3-way branching and 20 buds. Fertile both ways. DRINK THE LIGHT kids are showing beautiful, complex edges.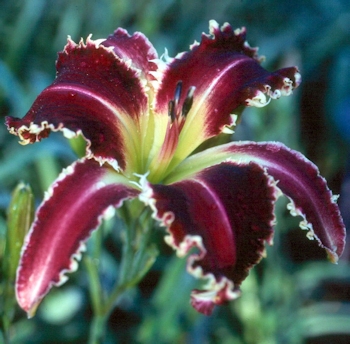 EIGHT MILES HIGH
(Lambertson 2003) TET 7.5" Ev M Re 30"
(Way Cool x [Sdlg x Way Cool])
The ultimate UF that is really up and out there! This fabulous daylily is so startling that I've heard people gasp "wow, what's that!". EIGHT MILES HIGH is a black red cascading UF with white sharksteeth and darker black red eye above a green throat. The sharksteeth come out on both petal and sepals from first flower to last! Incredible 5 to 6 way branching, with 25 plus buds, fertile both ways.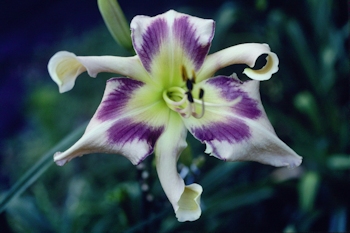 EYED TWISTER
(Lambertson 2000) TET 7.5" Sev EM Re 34"
[(Seedling x Spanish Sketch) X Do The Twist]
EYED TWISTER is a real chameleon UFO. The action in the sepals has a different look every day! A cream lavender with large fingered purple eye with partial purple & lavender picotee, also a few sharks teeth. EYED TWISTER has an extended bloom season. Sets some pods. 3-way branching, 25 buds. Great kids! TWISTER !!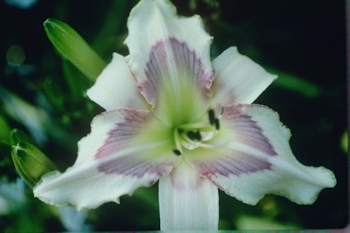 EYES A BLUE
(Lambertson 1998) TET 61/2" Semi-EV. EM Re 25"
(Lonesome Dove X Alice Lambertson)
A star shaped cream-white bloom with a dreamy medium-blue eye,and partial picotee edge. 30 buds. 3-4 way branching. Fertile both ways.EYES A BLUE will set pods every time. Producing unusual formed and spidery kids!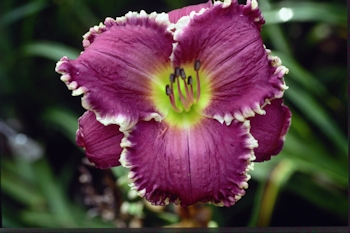 FACE OF THE STARS
(Lambertson 2001) | TET 5.5'' Ev M Re 28''
(Arabian Magic Seedling X Morts Masterpiece)
This very round boldly colored red violet has a fascinating steely red violet eye. The fabulous white teeth contrast like the face of the stars at night. Fertile both ways, 3-way branching, 20 buds. The kids are stars!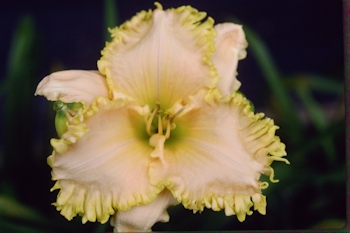 GOLDEN TENTACLES
(Lambertson 2004) TET 5.5" Sev EM Re 26"
(Ed Brown Seedling x Way Cool)
I crossed two pink flowers hoping to get another pink tentacled daylily, instead I got a spectacular gold with pink tints and very green throat. The dynamics of this bloom are all in the amazing glittering, diamond-dusted tentacle edge.The edge can look different every day with exaggerated protrusions projecting from this radical edge. Tentacles are still very rare in daylilies and GOLDEN TENTACLES is producing some very interesting new and different looks in edging. 3-way branching, 20 plus buds, fertile both ways.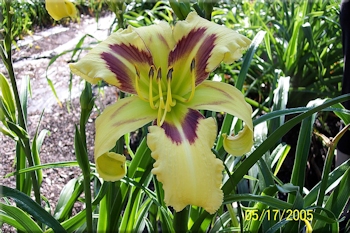 INTERGALACTIC INTERLUDE
(Lambertson 2005) TET 9" Sev E Re 28"
(Gerda Brooker Sdlg x Tet Mountaintop Experience)
Visitors flocked to INTERGALACTIC INTERLUDE a UF with enormous radiant blooms of intense medium creamy yellow petals and sepals. The huge purple eye and a slight picotee edge are magnified by an electric green throat. Strong, erect scapes carry blooms to perfection. 4-way branching, 35 plus buds. Pollen fertile for me.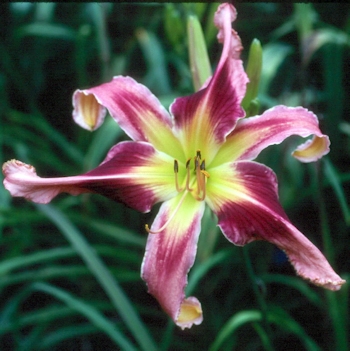 NOT OF THIS WORLD
(Lambertson 2003) TET 9" Ev EM Re 28"
([Gerda Brooker x Sdlg x [Royal Celebration x Sdlg])
This otherworldly UF is a beautiful medium pink with an enormous red purple eye and inner picotee edge. Petals and sepals have a thin cream white outer edge with a nice yellow to green throat. NOT OF THIS WORLD is producing some of my best thicker double edged UFO's. The strong scape holds this large bloom easily. 3-way branching, 18 buds, fertile both ways.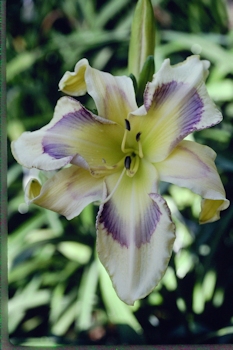 ORCHID OCTOPUS
(Lambertson 2002) TET 7" Sev EM Re 28"
(Sdlg X Sdlg)
Garden visitors have said that ORCHID OCTOPUS looks more like an orchid than any other daylily they've seen. Two very complex seedlings make up the composition of this gorgeous flower. A pale yellow cream base color on petals and very twisted sepals. The exquisite eye is shades of blue purple and violet with partial picotee edging. ORCHID OCTOPUS has a very long bloom period and with the last sets of scapes many blooms are double. 3-way branching, 15-20 buds. Very fertile both ways. Orchid!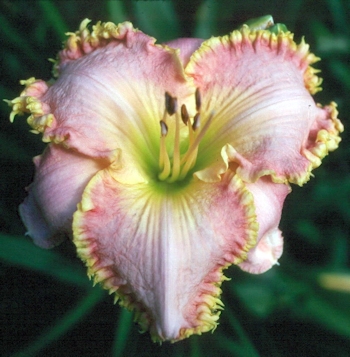 RUTH GORDON
(Lambertson 2003) TET 6" Sev M Re 24"
(Sdlg x Sdlg)
RUTH GORDON, a large beautiful creped pastel coral pink, has darker pink on the inner edge setting off the intriguing gold tentacled outer edge. A nice dark green throat completes the picture. Many stopped to admire this bloom. RUTH GORDON is one of the few daylilies I've introduced without an eye. It is named in memory of my wife Rachel's mother who lived a life filled with faith, family and joy. 3-way branching, 20 buds, fertile both ways.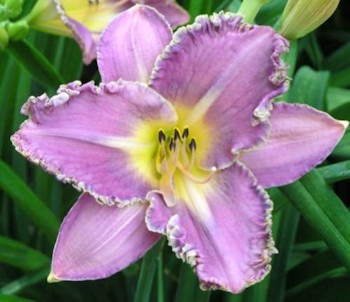 SANDY DENNY
(Lambertson 1998) TET 5.5" Sev EM 27"
(Druid's Chant x Sea Urchin)
SANDY DENNY, her song was heard the world over! Blue lavender. With a white starburst eye coming out of a green throat and gold edge. Long bloom season!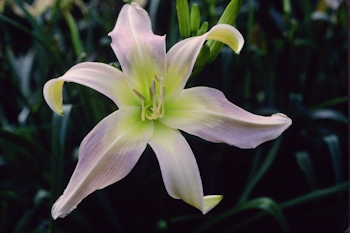 SETI
(Lambertson 2004) TET 8.5"Sev EM Re 26"
(Stellar Star x Seedling)
SETI is the word scientists use for research into the Search for Extra-Terrestrial Intelligence. SETI answered my call for this gorgeous UFO. SETI intelligently displays its' pale lavender petal color and lighter lavender sepals to perfection. SETI also possesses a very subtle patterned eye of light gray-lavender, then darker gray-lavender to yellow-lavender, to a dark green throat. 3-way branching, 20 buds. Fertile both ways.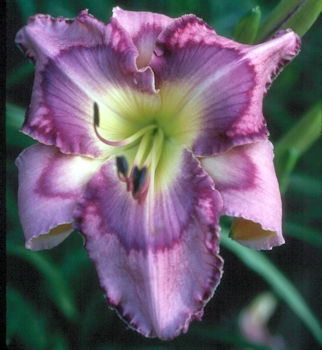 SUDDENLY BLUE
(Lambertson 2003) TET 6" Ev E Re 28"
(Sdlg x Blue Eyes Glance)
SUDDENLY BLUE is a startling large bloom with an enormous 4 plus inch blue purple eye and inner edge. The blue edge washes to lighter blue then a small cream outer edge. The blue eye is outlined in red purple with blue lavender petals and lighter blue lavender sepals. Everyone visiting our garden flocked to this flower, our biggest blue eyed daylily to date! 4-way branching, 20 plus buds, fertile both ways. SUDDENLY BLUE kids are truly fantastic!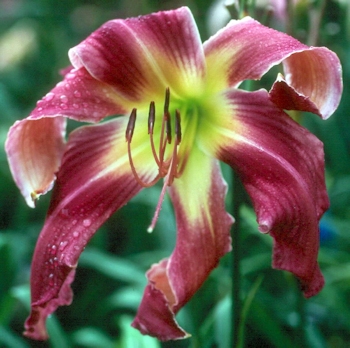 TURN TURN TURN
(Lambertson 2003) TET 9" Sev EM Re 28"
(Sdlg x Sdlg)
To everything there is a season. TURN TURN TURN will turn your attention to this fantastic cascading UF jewel. This HUGE flower is a cascading waterfall of petals & sepals of medium rose pink with a dark rose eye set off by a yellow to green throat. TURN TURN TURN is born on strong upright scapes. 3-way branching, 20 buds, sets some pods, good pollen. Turning out many great kids!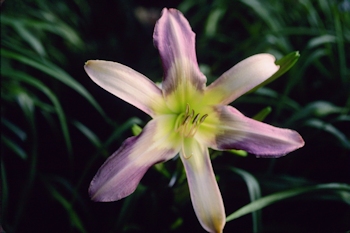 TURQUOISE TEMPLE
(Lambertson 2004) TET 9" Sev E Re 34"
(Blue Eyed Curls x Stellar Star)
TURQUOISE TEMPLE is a fabulous spatulate UF. TURQUOISE TEMPLE stands tall with huge light lavender petals, very light lavender sepals make it a bi-tone. A large complex gray lavender eye and bright green throat complete this fantastic UF cultivar. TURQUOISE TEMPLE seedlings are producing gorgeous purples and lavenders with many blue eyes and patterned eyes. 4-way branching, 20 plus buds. Very fertile both ways.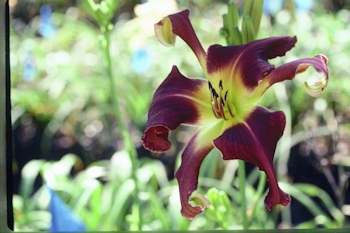 TWILIGHT TARANTULA
(Lambertson 2003) TET 7.5" Sev EM Re 34"
(Morticia Sdlg X Fortunes Dearest Sdlg)
This exciting UF crispate exudes all the great qualities of UFs! Petal and sepal color are a deep violet red. The nearly black velvet textured eye is a standout. TWILIGHT TARANTULA's complimentary composition is completed by a yellow to green throat. This extra special bloom brought garden visitors to a standstill! 3-way branching, 15 buds and fertile both ways. Tarantula!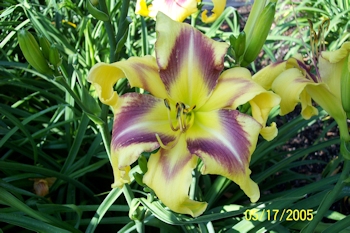 WHIRLPOOL GALAXY
(Lambertson 2005) TET 8" Sev E Re 35"
(Orchid Octopus x Tet Rainbow Spangles Seedling)
WHIRLPOOL GALAXY was quite a hit with our garden visitors. WHIRLPOOL GALAXY starts blooming early in May and was still blooming in September. A fabulous action UF with brilliant light yellow petals and sepals with an enormous reddish purple eye and picotee edge. A dramatic white midrib splits the eyezone down the center into a green throat. WHIRLPOOL GALAXY is really twisty and curly on tall, erect scapes with 4-way branching and 22 buds, a jewel of a UF. Fertile.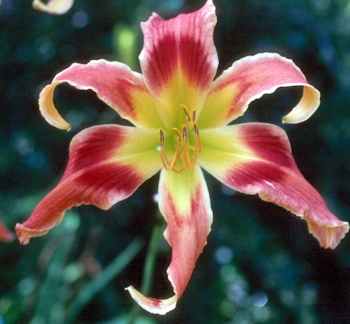 WINGED MIGRATION
(Lambertson 2003) TET 8" Sev EM Re 40"
(Alias Peter Parker x [Sdlg x Sdlg])
WINGED MIGRATION is a tall beautiful UF radiating a strong color presence. The flowers are a medium orange with a striking red orange eye, a slight yellow edge and yellow to green throat. WINGED MIGRATION appears to be in flight in the garden. 3-way branching, 18 buds, fertile both ways. Producing some very interesting pattern eyed UFs!