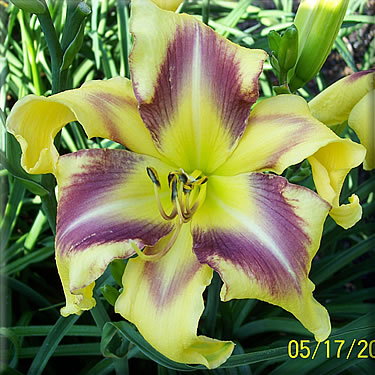 click image to enlarge
WHIRLPOOL GALAXY (Lambertson '05) Tet 8" Sev E Re 35" (Orchid Octopus x Tet Rainbow Spangles Seedling)
WHIRLPOOL GALAXY was quite a hit with our garden visitors. We have a long list for the plant so it will be limited. WHIRLPOOL GALAXY starts blooming early in May and was still blooming in September. A fabulous action UF with brilliant light yellow petals and sepals with an enormous reddish purple eye and picotee edge. A dramatic white midrib splits the eyezone down the center into a green throat. WHIRLPOOL GALAXY is really twisty and curly on tall, erect scapes with 4-way branching and 22 buds, a jewel of a UF. Fertile.