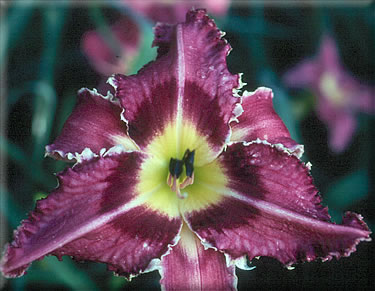 WASN'T BORN TO FOLLOW
(Lambertson'03) TET 6" Sev M Re 24" (Book of Secrets x Way Past Cool)
Another BYRDS song written by Carole King and her husband. This exotic bloom has alot to look at. WASN'T BORN TO FOLLOW is a medium purple on both petals and sepals with a very dark purple eye and inner edge. Its' outer edge is consistently inconsistent, meaning, every day WASN'T BORN TO FOLLOW goes from having a white crinkled border to small or large sharksteeth. No matter what, it is always an interesting flower! 3-way branching, 20 plus buds, very fertile both ways. Great kids!