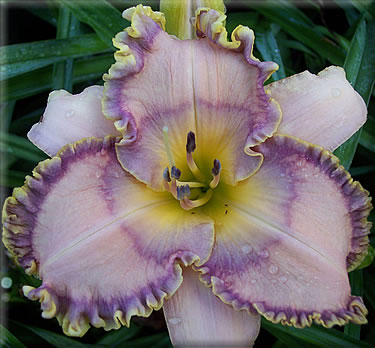 click image to enlarge
WASHED WATERCOLOR (Lambertson)
TET 5.50"EvEMRe28"
(Blue Hippo X Liquid Layers)
WASHED WATERCOLOR is a very subtle patterned bloom of cream polychrome. Lighter sepals with a washed blue violet eye and edge. The outer eye and inner edge are soft purple with a gold crackly outer edge. WASHED WATERCOLOR has a rich olive green throat, 3 to 4-way branching, 20 plus buds. Fertile both ways with very interesting patterned kids.