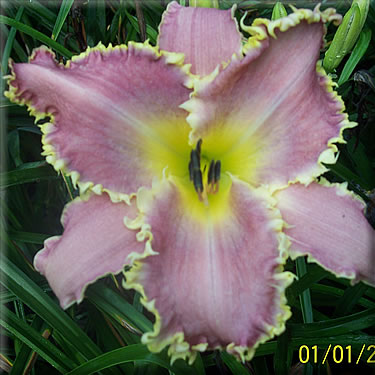 click image to enlarge
TRIASSIC TEETH (Lambertson '05) Tet 8.5" Sev E Re 34"
([Sdlg x Sharkstooth Sdlg] x Crocodile Smile)
TRIASSIC TEETH is a monster bloom with pink lavender petals and slightly lighter sepals. A very intriguing pale halo of gray lavender sinks into a yellow to green throat. The flamboyant edge of TRIASSIC TEETH consists of huge white and yellow sharksteeth and tentacles - the largest teeth I've ever created. TRIASSIC TEETH is a very large plant with strong thick scapes, 4-way branching and 20 buds. Very large, bold teeth seedlings. Fertile both ways.