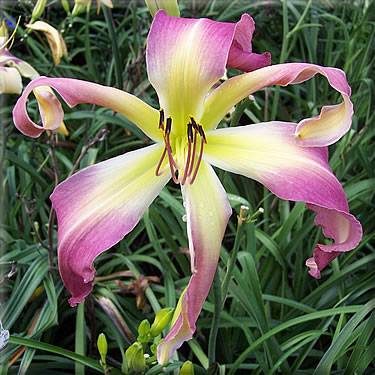 click image to enlarge
TITANIC TOWER
(Lambertson) TET 10.5" Sev M Re 42"
(Freudian Slip Seedling X Royal Celebration Seedling)
TITANIC TOWER – I thought this would be my first true spider but it didn't quite make it, so this bloom is a twisting crispate UF. TITANIC TOWER has really beautiful pure color of pink-lavender petals and lighter pink-lavender sepals. The throat goes from white to yellow to green. TITANIC TOWER has stellar plant habits with 4 to 5-way branching and 30 buds. No pods, but good pollen to make big, beautiful clear-colored kids.