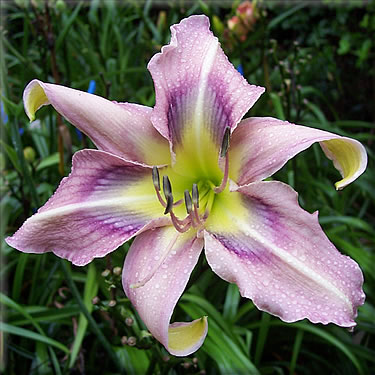 click image to enlarge
TESSERACT (Lambertson '05) Tet 5" Sev E Re 34" (Art Gallery Iridescence x Sdlg)
Our favorite children's book author - Madeleine L'Engle - describes a TESSERACT as being "a wrinkle in time" that enables instantaneous travel through space. TESSERACT is the first mini Tet UF that I know of. An exquisite little jewel of cream lavender petals and sepals with a complex patterned eyezone of fuscia, light and dark gray, TESSERACT twists and turns and has many looks. Blooms very early to late in the season. 3-way branching, and 15 to 18 buds. Pod fertile only, sets seed like crazy.