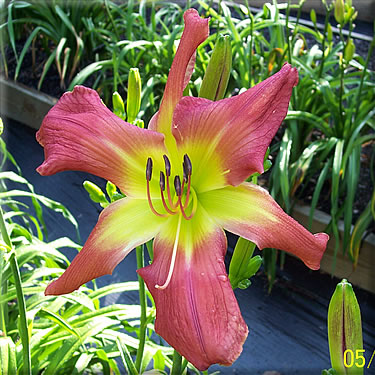 click image to enlarge
TALL TOWER (Lambertson '05) Tet 8" Sev EM Re 38" (Art Gallery Quilling x Sdlg)
TALL TOWER comes directly out of our very popular ART GALLERY QUILLING. The quilled Tet UF class is still very rare with only a few cultivars in commerce. TALL TOWER is a majestic bloom of medium rose petals and lighter sepals, with a very subtle halo of light yellow orange rose. A very bright green throat completes the composition. TALL TOWER has beautiful scapes with 5-way spaced branching and 25 buds. Fertile both ways. A cool crop of kids!