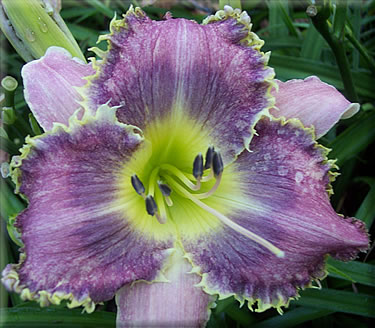 click image to enlarge

click image to enlarge
STIPPLED STATEMENT (Lambertson)
TET 5.50"SevERe27"
(Art Gallery Expressionism X Face of the Stars Seedling)
Super strange is STIPPLED STATEMENT with medium violet stippled petals and light violet stippled sepals. The stippled blue violet eye and edge are surrounded with wild yellow green teeth. STIPPLED STATEMENT has 3 to 4 way branching, 20 plus buds and is fertile both ways. Super strange kids.