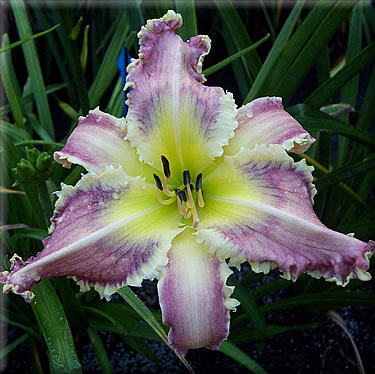 click image to enlarge
STIPPLED STARSHIP
(Lambertson) TET 7" Sev M Re 29"
(Stippled Stars Seedling X Jurassic Jaws)
STIPPLED STARSHIP is a really fantastic pinched crispate UF. STIPPLED STARSHIP takes stippling and teeth to a new dimension. STIPPLED STARSHIP has creamy pale rose petals, lighter creamy pale rose sepals with a very interesting light stippled purple eye and edge. The outer edge has huge white to gold sharksteeth on both petals and sepals. STIPPLED STARSHIP has 3-way branching, 20 buds, is fertile both ways. Kids are out of this world!