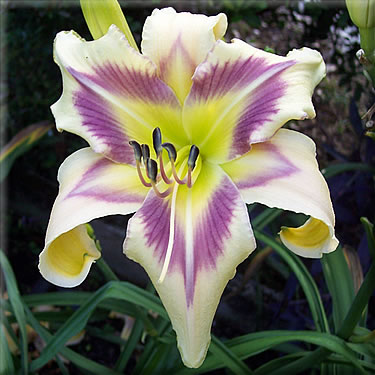 click image to enlarge
RAZOR EYES
(Lambertson) TET 7" Sev M Re 33"
(Seedling X Seedling)
This flower was nicknamed RAZOR EYES the first day it bloomed because of the razor-like protrusions coming out of its eye. RAZOR EYES is a compelling cream pastel on petals and sepals with probably my most tantalizing UF eye yet. The red-purple eye and slight purple picotee edge has razor-like fingers coming out of the eye. The white and light purple mid-rib make the eye explode. The throat goes from yellow down to green. RAZOR EYES has 4-way branching, 30 buds per scape. Fertile both ways. Wild eyed kids!