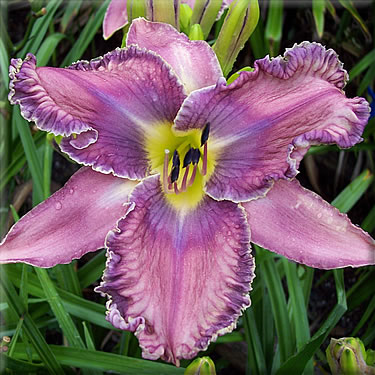 click image to enlarge
RACHEL LAMBERTSON (Lambertson '05) Tet 6" Sev M Re 24"
(Mildred Mitchell x [Blue Eyed Guy x Blue Eyes Glance Sdlg])
This coming June will be our 30th wedding anniversary and this wild and wonderful daylily honors my wife Rachel. RACHEL LAMBERTSON is truly a unique large flower of medium violet lavender petals and lighter violet lavender sepals. The shocking blue violet eyezone shoots violet out the midrib to the end of the petal. The complex edge is dark blue on the inside and fades to lighter shades of blue going into silver on its' outer edge. RACHEL LAMBERTSON also has some very intriguing traits - sometimes the petals recurve backwards creating a tubelike, sculptured look. A nice green throat, 4-way branching and 35 to 40 buds. Fertile both ways. Super wow!