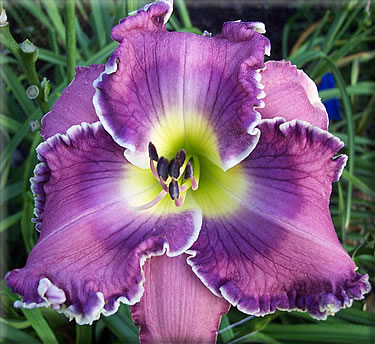 click image to enlarge
PURPLE PEACE (Lambertson)
TET 5.75"SevMRe38"
(Orbital Odyssey X Blue Hippo)
PURPLE PEACE being another BLUE HIPPO kid, has it all - a daylily with perfect plant habits. PURPLE PEACE is a thrilling rich purple with dark blue purple coloring in the eye and edge and an outer white and gold border. PURPLE PEACE has a very green throat and fantastic strong erect scape with 4 to 5-way branching, 35 to 45 plus buds. Very fertile both ways. Super Breeder!