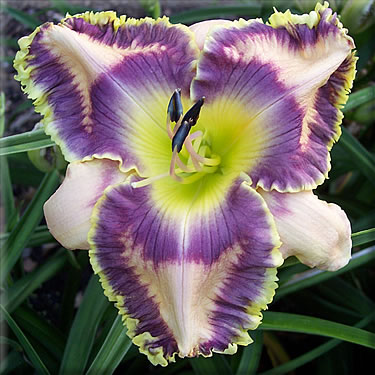 click image to enlarge
HIGHWAY BLUES (Lambertson)
TET 5.50"EvEMRe20"
(Awesome Artist X Seedling)
HIGHWAY BLUES is a baboom bloom of violet cream petals, sepals lighter. The explosive medium blue purple eye and edge with a gold outer braid are truly exciting. HIGHWAY BLUES has some flaws with a short scape and its sepals don't like the cold weather. HIGHWAY BLUES however bred to taller cultivars has given me some very stunning new babies. HIGHWAY BLUES has 3-way branching and 20 buds. Fertile both ways.