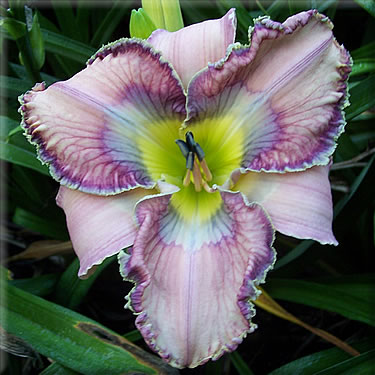 click image to enlarge
FLORIDA SCRUB-JAY
(Lambertson) TET 6" Sev EM Re 28"
(Birdtalk X Seedling)
Named for a very social friendly bird found in Florida's scrub habitat. This wonderful patterned eyed & edged daylily has amber pink petals and pink amber sepals. The mesmerizing eye has light blues and grays and is outlined in fuchsia. This eye color is carried all around the petal edge with the outer edge a glittering gold. FLORIDA SCRUB-JAY has 3-way branching and 15 to 20 buds. With constant rebloom, it has a very long season. Fertile both ways.