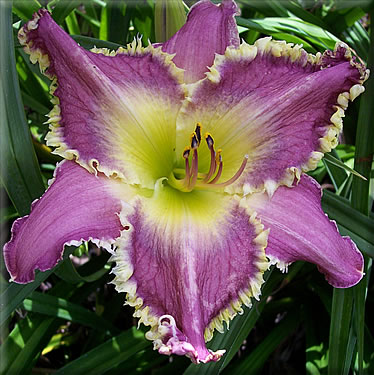 click image to enlarge
DRINK THE LIGHT (Lambertson '05) Tet 5.5" Sev EM Re 24"
(Face Of The Stars x Darla Anita)
DRINK THE LIGHT is a startling bloom with gorgeous dark lavender violet petals and sepals. The eye is cream to blue violet receding into a rich green throat. DRINK THE LIGHT has a fantastic yellow and white sharkstooth edge with horns, serrations and teeth. 3-way branching and 20 buds. Fertile both ways. DRINK THE LIGHT kids are showing beautiful, complex edges.