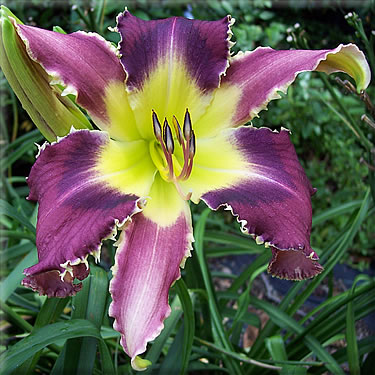 click image to enlarge
CROSSFIRE HURRICANE (Lambertson '05) Tet 7" Sev E Re 33"
(Eight Miles High x Sdlg)
After last year's hurricanes, I kept thinking of the line "I was born in a crossfire hurricane" from a song by the Rolling Stones. Our hearts go out to everyone that has been affected by the storms this year. CROSSFIRE HURRICANE is a very early bloom of dark purple petal and medium purple sepal. The very black purple eye is contrasted with a screaming green throat. The early blooms of CROSSFIRE HURRICANE show only a few white teeth but as the season progresses so do the teeth. CROSSFIRE HURRICANE is a very vigorous plant with 3 way branching and 20 buds. I haven't set any pods but the pollen is great and so are the kids.