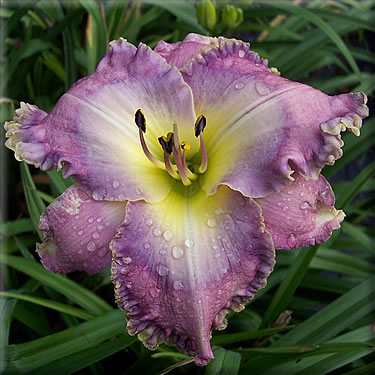 click image to enlarge
CERULEAN WARBLER (Lambertson '05) Tet 5" Sev EM Re 28"
(Awesome Artist Sdlg x Future Blue Eyed Sdlg)
The CERULEAN WARBLER is one of our most endangered warblers. Concerned birders have made large contributions to save the habitat of this little blue jewel. CERULEAN WARBLER is a stunning classic bloom of blue lavender on both petals and sepals. CERULEAN WARBLER has a very round subtle eye of grays and blue, which is carried around the very crinkled and bubbly edge. The outer edge is a combination of diamond dusted silver, white and gold. This super flower has produced very blue seedlings. 3-way branching, 15 to 20 buds. Fertile both ways.