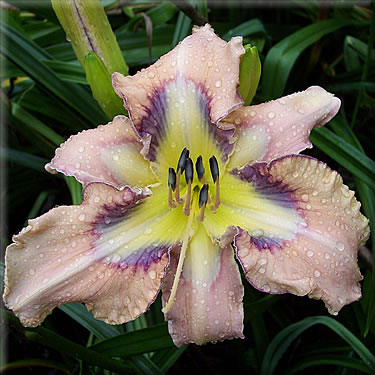 click image to enlarge
BLUE-WINGED WARBLER (Lambertson '05) Tet 5.5" Sev M Re 26" (Metallic Blue Eyes Sdlg x Sdlg)
Watching birds is a passion of mine and watching warblers is one of my favorite activities. BLUE-WINGED WARBLER is a patterned masterpiece with very distinct shaped petals of creamy pastel. An alluring eyezone of medium to dark blue with red-purple fingered protrusions extends out onto the petals. Sometimes the eye has metallic silver in it. BLUE-WINGED WARBLER has 3-way branching and 15 to 18 buds. Fertile both ways. Wild kids!