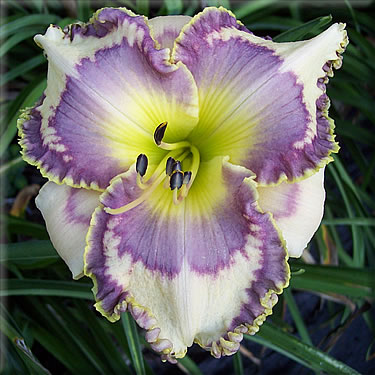 click image to enlarge
BLUE HIPPO
(Lambertson) TET 6" Sev EM Re 26"
(Suddenly Blue Seedling X Infinite Blue Seedling)
BLUE HIPPO's name was inspired by an ancient Egyptian blue-glazed ceramic hippopotamus. BLUE HIPPO is a paragon in the large medium blue eyed and edged category. BLUE HIPPO is a large cream with a huge medium blue eye and edge. The crackly outer edge is gold. Completing this marvelous composition is a beautiful green throat. When BLUE HIPPO reblooms, the flower seems to get even larger along with its eye and edge which turn to a light blue. Great plant habits with 3 to 4-way branching, displaying 25 buds per scape to perfection. Fertile both ways. Super wow kids!

click image to enlarge