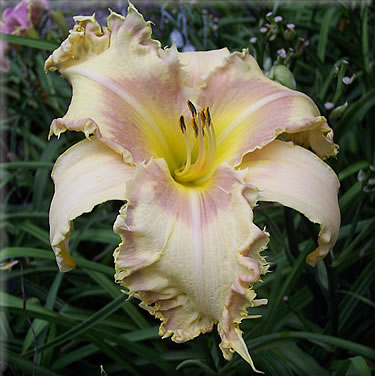 click image to enlarge
BED OF NAILS
(Lambertson) TET 6.5" Sev M Re 30"
(Way Cool Seedling X Flying Saucer Blues)
BED OF NAILS is a wild, oddly different toothy and tentacled daylily. This flower looks different in its presentation every day from looking triangular and almost formal to appearing wild, floppy, twisted and turned. BED OF NAILS is very large, starting out at over 7" and settling down to 6.5". The light cream amber petals and sepals are accented with a soft rose eye & edge with wild white to gold spikes, horns, teeth and tentacles. 4-way branching and 24 buds. Fertile both ways. Wild and weird kids!