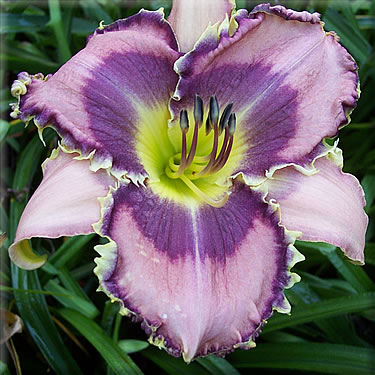 click image to enlarge
ART GALLERY EXPRESSIONISM (Lambertson '05) Tet 5.5" Sev M Re 28"(Flying Saucer Blues Sdlg x [Gail Fleming x Roses in Snow Sdlg])
ART GALLERY EXPRESSIONISM is a flat formal shaped bloom that expresses all the drama of expressionist art. ART GALLERY EXPRESSIONISM is a light lavender with lighter lavender sepals. The bold purple eye and its' fuscia border are carried out onto the petal edges. This is all topped off by white teeth that have some of the purple edge bleeding into them creating bi-tone teeth. 3 to 4 way branching, 20 buds. Fertile both ways.