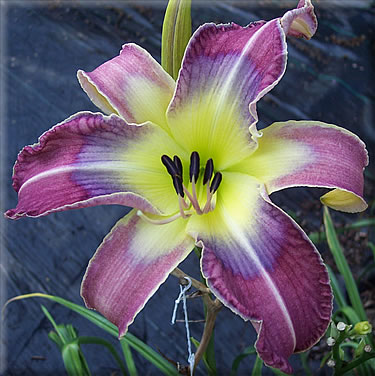 click image to enlarge
AMETHYST OUTLINED
(Lambertson) TET 7.5" Sev E Re 34"
(Bi-Colored Bite X Blue Haired Girl)
Wow, what a gorgeous UF! A large flower of amethyst purple with an outstanding blue-purple eye & edge and an outer pencil edge in white on both petals and sepals. AMETHYST OUTLINED sets some pods for me. Its pollen has given me many wonderful seedlings with blue & blue patterned eyes and also interesting edging. 3-way branching, 15 buds. Constant rebloom gives this plant a long bloom season.