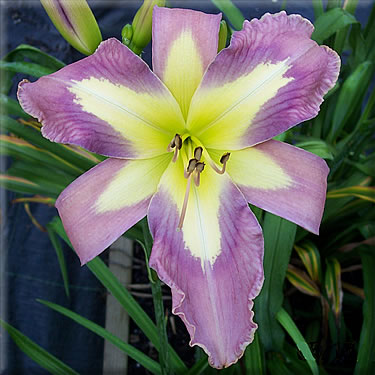 click image to enlarge
AERIAL APPLIQUE
(Lambertson) TeT 6.5" Sev E Re 32"
(Stellar Star Seedling X Seedling)
AERIAL APPLIQUE is a large bloom that sits on tall scapes and sings in the wind. The beautiful muted lavender petals and lighter muted lavender sepals are garnished with a lavish medium violet-lavender halo and a spectacular yellow appliqué which leads down into the green throat. This early bloom sets pods easily and is being used in appliquéd regular and UF crosses. 3-way branching, 20 buds. Fertile both ways.