| | |
| --- | --- |
| SCULPTING SCULPTURES aka SCULPTED SCULPTURES | |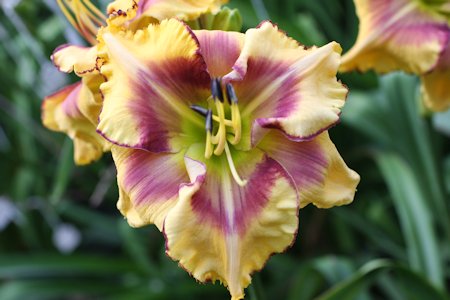 click image to enlarge
SCULPTED SCULPTURE (Ludlow Lambertson 2014 Intro)
(ROBOT CITY X [Tet Mystic Vision x Tet Purple-eyed Fantasy])
TET 5.75" Early-Mid Season Evergreen Reblooms 28"
SCULPTED SCULPTURE is a great mixture of genetics with two conversions from Larry Grace. SCULPTED SCULPTURE is a medium yellow with a large purple, rose and gray patterned eye and picotee edge. The ruffled petals tend to raise up away from the sepals, giving this flower a sculpted look. An intense green throat completes this composition. 20 budcount, 3-way branching. Pollen fertile only.