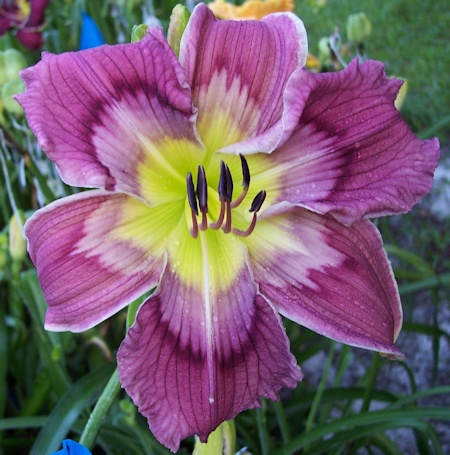 click image to enlarge
PAINTED PATTERN (Ludlow Lambertson 2013)
DIPLOID 7.5" Semi-evergreen Early Season Reblooms 34" Height
(Printmaker X Richfield Earlene Garber)
PAINTED PATTERN has been one of my favorite diploids for a number of years. PAINTED PATTERN bloomed for 5 months straight into late August. The petals and sepals of PAINTED PATTERN are a medium purple. The multi-patterned eye is a series of different gradations of gray with the outer border being in darker amethyst. The sepals are also bordered with a light gray edge. This mega-sized bloom has proven to be a super parent for patterned eyes. PAINTED PATTERN has 3-way branching, 20 buds and is easily fertile both ways.