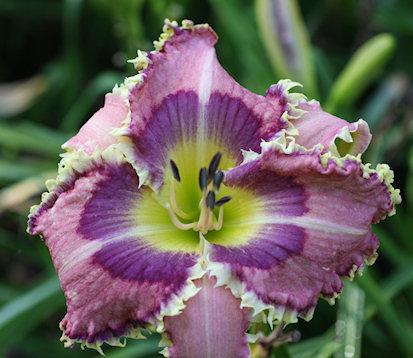 click image to enlarge
BLUE-EYED DRAGON (Ludlow Lambertson 2011)
TET 6" Sev E Re 28" [Yikes Spikes X Seedling]
BLUE-EYED DRAGON is easily one of my favorite toothies. Looking much larger than its size, BLUE-EYED DRAGON has medium purple petals with lighter purple sepals and blue-purple eyezone & edge. The very large toothy outer edge of light yellow to white teeth on both petals & sepals is supreme. BLUE-EYED DRAGON has 3-way branching, 20 buds and a very green throat. Fertile both ways.