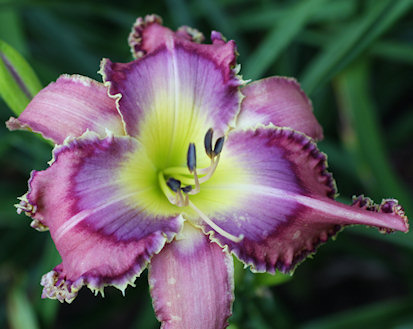 click image to enlarge
ART-O-GRAPH (Ludlow Lambertson 2011)
TET 6" Sev M-ML Re 28"
[Unicorn Tapestry X Stippled Statement]
ART-O-GRAPH is a 6" beauty with a very interesting color combo of medium purple petals and lighter sepals. The gorgeous eye & edge are a medium blue-purple; the outer edge is crinkled with greenish-white teeth. The explosive green throat adds to the colorful overall beauty of this daylily. ART-O-GRAPH has 4-way branching, 25+ buds. Fertile both ways.