click image to enlarge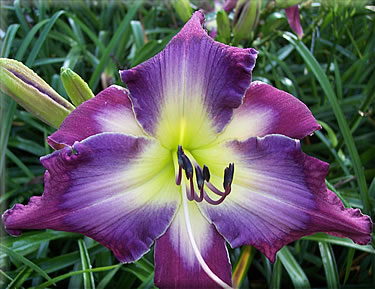 click image to enlarge
VIOLET SABREWING (Lambertson)
TET 7.50"SevERe32"
([Bluethroat x Blue Haired Girl] X Seedling)
VIOLET SABREWING was the largest hummingbird that I saw in Costa Rica. Like the bird, VIOLET SABREWING is really a knockout and continues my series of blue eyed UFs. A large bloom of saturated deep violet petals and sepals with a gigantic dark blue purple eye and edge, a fine white line borders the entire bloom. VIOLET SABREWING is interesting in that it looks like a regular bloom with only the last set of scapes where the sepals break away. VIOLET SABREWING has 4-way branching, 20 plus buds and is fertile both ways.