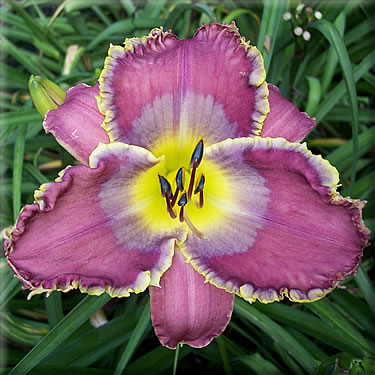 click image to enlarge
PARADISE TANAGER (Lambertson '05) Tet 5.5" Sev M Re 30"
([Blue Eyed Guy Sdlg x Blue Eyes Glance Sdlg] x Future Blue-Eyed Sdlg)
The PARADISE TANAGER is one of the most spectacular birds I've ever seen and this flower is one of my favorite blue-eyed daylilies. Rich medium purple petals and sepals and a sumptuous smoky blue eye and edge are a standout. The very yellow outer edge with some horns and teeth really enhances the bloom. PARADISE TANAGER has 3-way branching, 20 buds and makes beautiful seedlings. Fertile both ways.