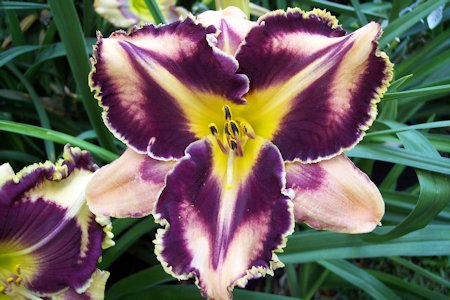 click image to enlarge
ROBOT CITY (Ludlow Lambertson 2014 Intro)
(OPEN MY EYES X RADIO RIDER)
TET 5.75" Mid-Late Season Semi-evergreen Reblooms 30"
ROBOT CITY is named after a humorous song and ROBOT CITY sings with a dramatic presence of creamy orange petals and sepals, a super black-purple eye & edge and a cream outer edge. ROBOT CITY has a luscious green throat that pushes out to a yellow starburst through the eye. 20-plus budcount, 3-way branching. Fertile both ways.