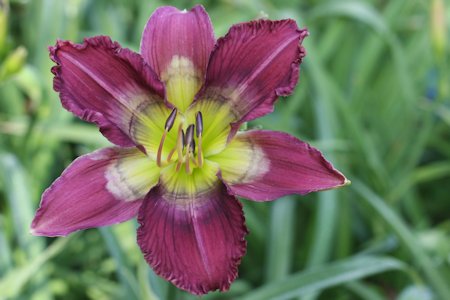 click image to enlarge
MIDNIGHT MIRROR (Ludlow Lambertson 2014 Intro)
(TURQUOISE TREAT X TEXAS KALEIDOSCOPE)
DIP 5.5" Early Season Evergreen Reblooms 30"
MIDNIGHT MIRROR is a fabulous dark purple dip with a wild patterned eye of dark gray, light gray, purple and cream. The green throat extends right through the eye. Dan Trimmer has converted this plant for me and we should both see kids this coming spring. 25-plus budcount, 3-4 way branching. Easily fertile both ways. Super fab kids!