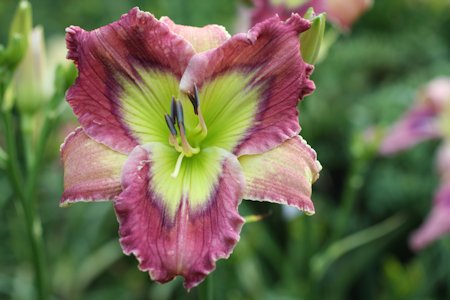 click image to enlarge
MALACHITE SUNBIRD (Ludlow Lambertson 2014 Intro)
(LEDGEWOOD CALICO BLUES X EMERALD STARBURST)
DIP 5" Early-Mid Season Semi-evergreen Reblooms 40"
MALACHITE SUNBIRD was one of my favorite sunbirds that I saw in Africa. MALACHITE SUNBIRD has smoky rose petals with lighter stippled sepals and a distinct purple chevron eye. MALACHITE SUNBIRD has a giant emerald throat. This bloom also polytepals a lot. 35 budcount, 3-4 way branching. Easily fertile both ways.