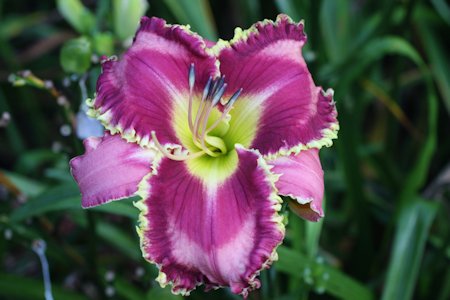 click image to enlarge
CRIMSON STORIES (Ludlow Lambertson 2014 Intro)
(BEAKS AND BILLS X VERMILION FLYCATCHER)
TET 6.5" Early Season Evergreen Reblooms 36"
CRIMSON STORIES is one of the very early blooms of the season and continues blooming into the fall here. CRIMSON STORIES has medium red petals and sepals with a startling dark crimson eye and edge. The outer edge is a crinkled and toothy yellow. CRIMSON STORIES has a green throat, 30 budcount, 3-4 way branching. Easily fertile both ways.