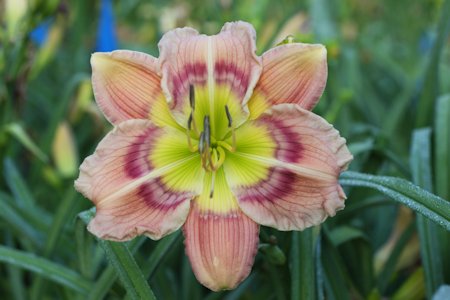 click image to enlarge
CIRCULAR CIRCLES (Ludlow Lambertson 2014 Intro)
(PEGGY IMRIE X FEATURED PRESENTATION)
DIP 6.75" Early Season Evergreen Reblooms 28"
CIRCULAR CIRCLES is one of the premier dips this year with orange-cream petals and extra wide sepals. CIRCULAR CIRCLES has a great patterned eye of fuchsia, gray and purple on both petals and sepals with a very large green throat. 20 budcount, 3-way branching. Fertile both ways. Spectacular kids!