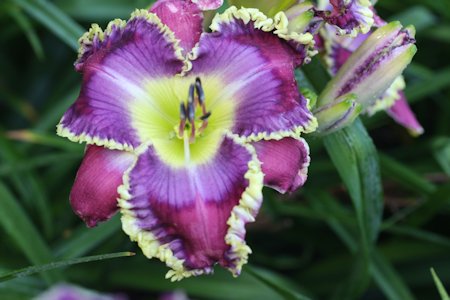 click image to enlarge
BLUE NOCTURNE (Ludlow Lambertson 2014 Intro)
(PURPLE PEACE X CERULEAN WARBLER)
TET 6" Early-Mid Season Semi-evergreen Reblooms 30"
BLUE NOCTURNE is one of my very favorites this year with its dark purple petals and sepals. BLUE NOCTURNE boasts a wonderful chalky-blue eye and edge with the outer edge yellow-cream and a nice green throat. I'm using BLUE NOCTURNE on all my red flowers to get a blue eye on reds. 25-30 budcount, 4-way branching. Fertile both ways.