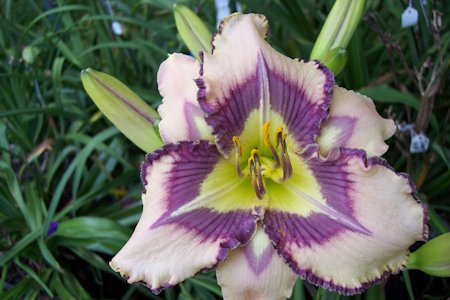 click image to enlarge
ART GALLERY APPLIQUE' (Ludlow Lambertson 2014 Intro)
(BLUE JEAN BABY X HILLSTREET BLUES)
TET 5.5" Early-Mid Season Semi-evergreen Reblooms 30"
ART GALLERY APPLIQUE' is a light cream on petals and sepals. This dramatic new applique' has a medium purple eye and edge with an amethyst outer eye. The sepals are the same but lighter. ART GALLERY APPLIQUE' has a deep green throat coming out to yellow then a speckled yellow and white applique'. 25 budcount, 4-way branching. Fertile both ways.