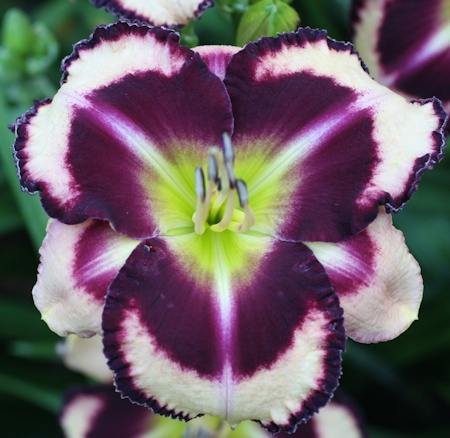 click image to enlarge
GERTRUDE STEIN (Ludlow Lambertson 2013)
TET 6" Semi-evergreen Early Season Reblooms 27" Height
(Seedling X Tet Peppermint Delight)
GERTRUDE STEIN is named for the wonderful art collector who - along with her Stein siblings - collected some of the first early modern art in Paris. In May Rachel and I went to see the Stein collection on exhibit at the Metropolitan Museum in New York. GERTRUDE STEIN is a stunning, artsy bloom with light cream petals and sepals, a dramatic velvet black-purple eye and edge and very green throat. This is another daylily that was still blooming after 5 months in our garden. GERTRUDE STEIN has 3 way branching, 20 buds. Fertile both ways.