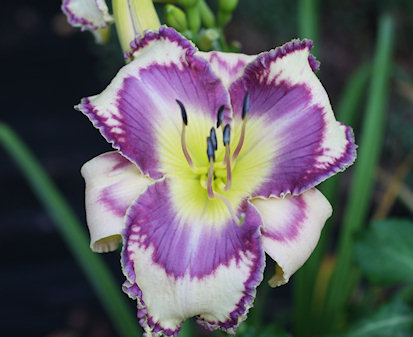 click image to enlarge
BLUE BUNTING (Ludlow Lambertson 2011)
TET 6" Sev E-EM Re 27"
[Sacred Ibis X Seedling]
The spectacular colored BLUE BUNTING - a bird that rarely visits the U.S. - came into Texas where I saw it a few years ago. BLUE BUNTING has the cream coloring I love in daylilies and a clear intense blue-purple eye and edge. This type of coloring makes beautiful clear colors in its offspring. BLUE BUNTING has 3 -way branching, 18 buds, and a great green throat. Fertile both ways.